This DanishClass101 Review is up-to-date as of February 13th, 2023.
Mostly spoken in Denmark, the Danish language has an interesting heritage. It is an Indo-European language that descended from Old Norse, like Swedish and Norwegian. The three languages remain mostly mutually intelligible, meaning speakers of each language can generally understand the others.
Danish is only spoken by about 5.6 million people in the world. This number is actually less than the population of New York City, which leads one to wonder why you might want to learn Danish. For those that have Danish family, friends, or partners, or those who simply love Denmark, the answer is simple. If you plan to learn to speak Danish, check out our honest review of
DanishClass101
by Innovative Language.
Overview: DanishClass101 Review
There are four subscription levels and four expertise levels to choose from when you sign up for DanishClass101. Upon signing up, you automatically qualify for a free lifetime account that grants you access to the first three lessons in each learning pathway. With new lessons added weekly, this adds up to a lot of content. Additionally, you are offered a 7-day free trial or 30-day $1 trial of the Premium plan, so you can truly get a feel for what DanishClass101 offers.
You can easily switch between expertise levels from absolute beginner through advanced speaker, and you can upgrade or downgrade your subscription plans depending on what features matter to you. Additionally, DanishClass101 offers among the various plans:
Access to all lesson archives

Detailed lesson notes to download and print

Access on mobile or home-based devices

HD video

Interactive learning tools like flash cards and voice recording

Lesson quizzes and personalized assignments

Word bank and Danish audio dictionary

One-on-one instruction
What we LOVE about DanishClass101
PRO #1: Extensive Material
You will find hundreds of hours of Danish podcasts and video lessons to start your studies, and you can access all of it from your mobile or home-based devices. This truly exemplifies learning on-the-go. Along with the lessons, there are also extensive lesson notes, word banks, phrase lists, and other learning tools to aid in your learning.
Pro #2: Native-Speaking Instructors
All lessons are taught by at least one native-Danish speaker. This means that you are receiving legitimate information about exactly how the language is spoken. You will also learn some tidbits about Danish slang or proper uses of certain words in different situations. Additionally, some cultural norms are covered in almost every lesson.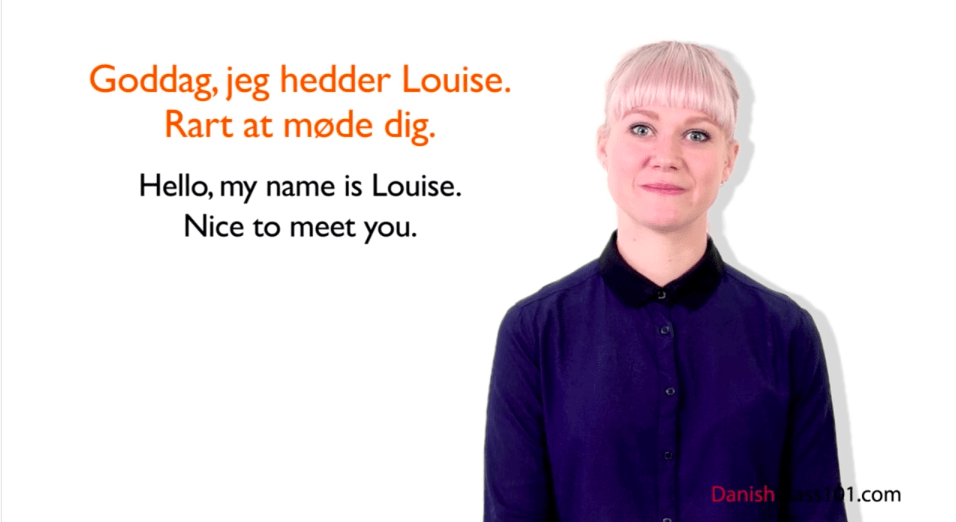 Pro #3: New Content Added Weekly
Unlike some programs, DanishClass101 is consistently being updated with new and relevant content. This means that you will learn lessons based on things that are important in today's world. Outdated, boring and irrelevant content is literally a thing of the past.
Things we DON'T LOVE about DanishClass101
CON #1: Lack of Feedback
Don't get us wrong, customer service is great if needed for technical issues, but there is little feedback in the way of knowing how well you're progressing in Danish. If you opt for one of the costlier monthly subscriptions, you can chat with your instructor, but otherwise you are mostly left on your own if you have questions or concerns. There is a community forum, but it has very little activity. Finding other Danish speakers to communicate with is challenging.
CON #2: Geared for Beginners
The program claims to offer content for advanced speakers who want to further advance their knowledge of Danish. However, someone who is already a fluent speaker in Danish may find this level to be more along the lines of review instead of new material. Beginning to intermediate speakers will benefit most from this course.
DanishClass101 Features
Dashboard
Once you log into DanishClass101, you are taken to your dashboard. This is where you can see all your stats, upgrade your experience, upgrade your subscription, read the latest news, and access your learning pathways. This is also where you can check your progress as to how many lessons you have completed. Essentially, the dashboard is the heart of the program.
Podcasts, Video Lessons, and Transcripts
All lessons are in the form of Danish podcasts or videos lasting from three minutes to 15 minutes. Lessons are spoken slowly and videos have the words scrolling across the screen as they are spoken for better comprehension. At the end of the lesson, you will find detailed transcripts covering what you just learned. You can download these and print out to study at a later time.
Learning Pathways
There is a large variety of learning pathways to let you truly customize what you want to learn. You can choose a guided pathway that will cover the language in a similar way you would in the classroom. You can also choose to complete other pathways like Danish For Travel in order to pick up phrases as you need them.
Learning Tools
You will find spaced-repetition flash cards, vocabulary slide shows, and interactive lesson quizzes as a few of the non-lesson learning options. You can also find a voice-recording activity that lets you record your voice to compare it to that of the instructor's. These learning tools assist in keeping you motivated when the lessons start to feel mundane.
Who Might Benefit from DanishClass101
It takes a highly-motivated individual to take on learning a language. That said, those who would benefit from using DanishClass101 include those who:
seek fluency in Danish

have Danish friends or family to communicate

plan travel to Danish-speaking regions soon

excel at independent study
Who Might NOT Benefit from DanishClass101
Likewise, some folks may not find DanishClass101 as useful as others. These include those who:
prefer in-person instruction in a classroom environment

do not have time to commit to learning

require physical materials for learning
DanishClass101 vs. the Competition
DanishClass101 vs. Babbel
Babbel is similar to DanishClass101 in that it is an online-based learning program you can access on mobile or home-based devices. You will find a variety of activities consisting of fill-in-the-blank and multiple-choice questions. Babbel relies on the spaced-repetition method for helping you learn to speak Danish. The content is lacking in comparison to DanishClass101, but Babble still offers a good foundation for beginners with monthly subscription rates as low as $8.95.
DanishClass101 vs. Glossika
Glossika is an audio-based learning system that uses podcasts for the majority of the lessons. You simply listen and repeat what you hear. It comes across as a simple platform, and it is. All you have to do is listen and speak. It claims to take you up to level C1 with their hands-free method. Instead of learning grammar rules that you must recall prior to speaking, you just learn how to speak. Some feel this method is the most organic, since it is how you learned your native tongue.
How Much Does DanishClass101 Cost?
If you sign up for the $1 Premium plan for your first month, you can continue on with that level or downgrade to the Basic plan or upgrade to the PremiumPLUS plan. The prices listed below are for month-to-month subscriptions. If you choose to sign up for, say 24 months, your monthly cost will be much lower.
Unlimited access to the lesson library and lesson transcripts
Daily lessons and word-of-the-day emails
Access on iOS and Android devices
Voice-recording and interactive flash cards
Danish audio dictionary
Lesson quizzes
One-on-one instruction
Personalized lesson plans
Assignments and ongoing testing
Is DanishClass101 Worth It? Final Thoughts
With so few resources for learning Danish out there, we feel that DanishClass101 offers a comprehensive beginning program for a variety of learners including visual, audio and tactile. If you want to learn the Danish language, this is probably the best resource currently available. Additionally, coupons are often available making the price a pretty good deal for the amount of content.
Get a free 7 day trial of DanishClass101 Premium by using this link to sign up.