Editor's Note: This article featuring the 10 best Turkish apps is up-to-date as of September, 2021. 
So, you're embarking upon the study of the Turkish language, and you're now hunting around for some great language apps to include in your study routine.
First of all, what a worthy endeavor to pursue! Turkey is home to some of the oldest civilisations on the planet, some dating as far back as 7000 – 6000 BCE. Therefore, it's of no surprise that Turkey is actually one of the most popular tourist destinations in the world, a vast melting pot of exotic cultures, music, food, and of course language.
Whether you are learning Turkish for business reasons, a personal interest, or simply to get some tourist phrases under your belt, our list of Turkish language apps will get you up to speed with all the best options to help you to understand and speak this beautiful language.
So, what are you waiting for? Let's dive right in!
Best Apps for Learning Turkish
(Android, iPhone, iPad)
Monthly subscription starts from $8/month, 7 day free premium trial
This first app on our list is a brilliant option for complete beginners, and we think deserves its title as one of the best apps for learning Turkish. It not only walks you through the entire alphabet & basic phrases, but each lesson is also accompanied by authentic line-by-line dialogues that you're likely to encounter whilst in Turkey. Couple this with an entire suite of additional learning tools (flashcards, most common word lists, grammar banks etc.) and you have the recipe for one excellent language learning app. 
The lessons are mostly video based, with some lessons having only an audio podcast (plus all the lesson notes etc.) They are all delivered by professional native speakers in bite-size chunks, ideal for those with busy schedules and for squeezing in extra language practice here and there. Most of all, we love that they give you the ability to customize your own syllabus based entirely upon your own language goals and personal interests, something that is very rare among most other language courses. 
This app is definitely worth checking out for serious language learners, plus you can snap up a very generous discount by using our unique coupon code (applied automatically).
Price:
Effectiveness:
User Experience:
This next app is one of our personal favorites, and guess what – it's free! For anyone on a budget, you're going to want to check this one out. It's an app you can download offline and contains 100 lessons, grouped by topic and delivered through lists of phrases. You can learn the vocabulary separately also, by playing their matching games & by taking their writing tests. 
Do bear in mind that advanced learners may find this app a little limiting, however for beginners it's got everything you need, from the alphabet to animals, numbers to names.
Price:
Effectiveness:
User Experience:
Ahh, where would we be without italki? One of the most well-known apps for language learning, italki allows you to connect with a wide variety of native tutors at an affordable price. One of the best ways to learn a new language quickly is to start communicating with locals from day one. For this, italki is perfect.
You can book free trial lessons with a number of different tutors until you find someone you gel with. Then you can book lessons that fit around your schedule and start practicing what you've learnt with your new tutor straight away. It's as easy as that! The app even has a built-in learning platform that allows the teacher to make notes, share their screen, use a whiteboard, and more. 
For anyone learning Turkish I strongly recommend using italki alongside their regular syllabus, to give yourself a chance to develop conversational skills and practice what you already know – especially if you live outside Turkey!
Price:
Effectiveness:
User Experience:
Perhaps you're a mega introvert and the thought of speaking with anyone over a webcam is enough to make you shiver. Then fear not, this next app will very effectively teach you all the conversational phrases & speaking fluency you need, but without speaking to another human being. It's called the Pimsleur method, invented by Dr Pimsleur in 1963, based upon a set of principles he discovered during his linguistic research.
The course is purely audio-based. So you can learn whilst out on a walk, or doing anything, really. Each 30-60 minute lesson breaks down a dialogue into its individual phrases, words and sounds, and then puts it all back together again, whilst prompting you to repeat and recall things throughout the lesson. It's not just memorisation, but a kind of training that gets you to naturally identify the grammar patterns and words that are effectively the building blocks of the language.
Price:
Effectiveness:
User Experience:
Did you know that you can even learn Turkish with Duolingo? In case you didn't know, Duolingo is a super fun app that teaches you the basics of a language through a series of short quizzes – by matching words to pictures, filling blanks in sentences and so on. In fact, Duolingo claims that their Turkish course is the most popular way to learn Turkish online, so it might be worth taking a look at.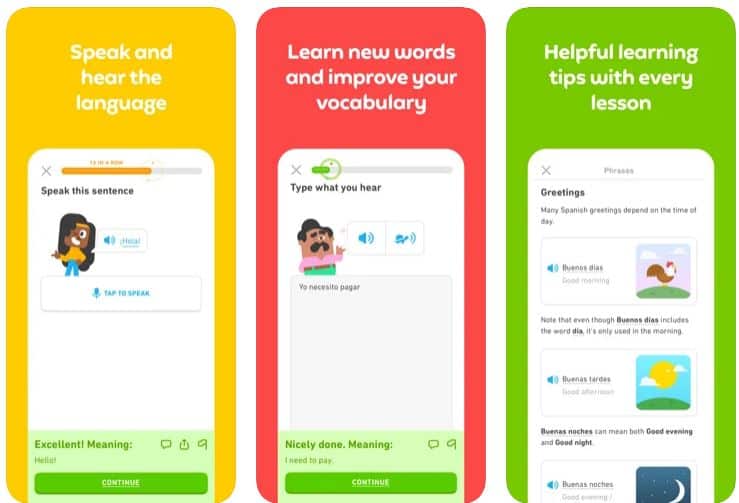 Turkish is definitely not an easy language to learn through the Duolingo method, with all it's unfamiliar grammar concepts and consonant mutation (yeah that's right, the vowel must agree with the consonant before it), however they've done a pretty good job all things considered. The app generally gets a lot of stick for being overly simplified and translator heavy, however with Turkish they've built the curriculum tree from the ground up and put a lot of effort into creating new and interesting sentences. Overall, it's worth checking out.
Price:
Effectiveness:
User Experience:
A language isn't a language without all it's vocabulary. Thankfully this next app provides a great way to broaden your knowledge of the Turkish vocabulary, the missing piece of the puzzle. It's free, available offline, and has over 6000 words for you to add to your arsenal. They have a series of games to teach you new words (grouped by topic), and then review what you've learnt.
The app is split into three levels and is great fun to use. Plus, the images and voice clips really help to cement the new words into your memory. Why not give it a try?
Price:
Effectiveness:
User Experience:
Memrise is like Duolingo, but ten times better! Their video clips for each dialogue are absolutely brilliant, breaking down exactly how native Turkish people speak. The Turkish app is actually made up of a series of courses that are tailored to a wide range of levels and learning needs. We found the vocabulary lessons (especially the 'Hacking Turkish' lessons) to be really fun and effective.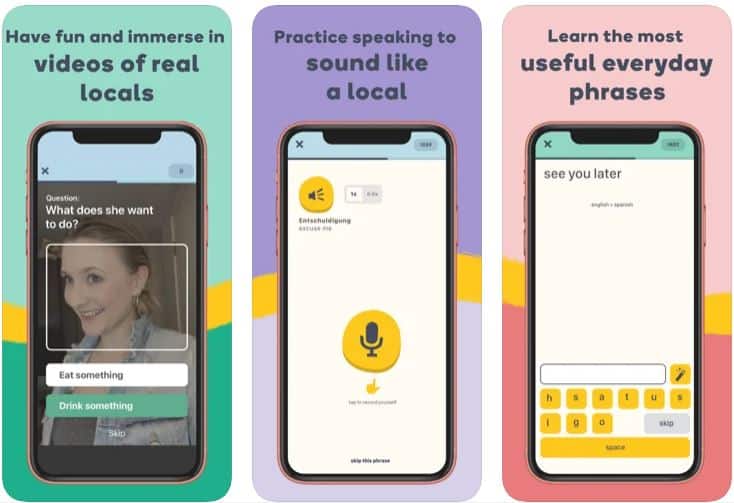 Price:
Effectiveness:
User Experience:
Busuu is another very popular option for Turkish language students. Unlike most of the other apps here it gets you writing from the very start – something that's very useful to help you learn and remember more words. Another really cool feature is the ability to connect with native speakers in a language exchange. In fact, this language exchange feature is incorporated right into the lessons where you'll be prompted to speak and write – very cool!
Price:
Effectiveness:
User Experience:
When learning a new language, studying new words and phrases simply is not enough. It's important to immerse yourself in the language as much as possible, even if you don't understand everything. This helps your ears to become accustomed to the individual sounds, as well as the overall flow and rhythm of the language.
For this, we recommend a podcast-style app such as Turkish Tea Time. There's hundreds of lessons, podcasts, and voice recognition exercises at lots of different levels of difficulty to help you improve your listening and even speaking skills. You can get access to a bunch of episodes for free by just signing up.
Price:
Effectiveness:
User Experience:
Our final app is a must-have for anyone learning Turkish. When reading new texts, listening or studying new material in Turkish, it's always handy to be able to quickly find a definition of a word or phrase. The google translate app allows you to quickly scan with your camera and translate in real time, type in yourself, or even transcribe a voice or audio recording. I find myself using this app all the time. The chrome extension is pretty good too!
Price:
Effectiveness:
User Experience:
The Best Apps For Learning Turkish: Conclusion
The Turkish language is a deep and intricate language that can provide endless satisfaction and fulfillment for those who endeavor to pursue it. It opens doors to understanding Turkey's great archaeological treasures from way back in ancient Greece, and the mighty Roman and Ottoman Empires. 
But it's certainly not easy. Using the right resources can make a world of difference to your language progression and in your confidence using the language. We hope that this list of top 10 apps has helped you to choose a study program that's right for you. Whether you opt for an all encompassing app like TurkishClass101, online tutoring with italki, or a flashy gamified app like Duolingo, we wish you the best of luck.
Know any other great apps for learning Turkish? Let us know in the comments below!
Josiah is a digital nomad with a passion for language learning and adventure travel. He's taught English as a foreign language for many years and is currently learning Georgian, French and Chinese.